Friday Field Trip
Hello, and welcome to today's field trip. I started the field trips as a way to share my favorite places in a way the folks in the blogosphere could come along with me. If only digitally.
Sushiboy's Abode.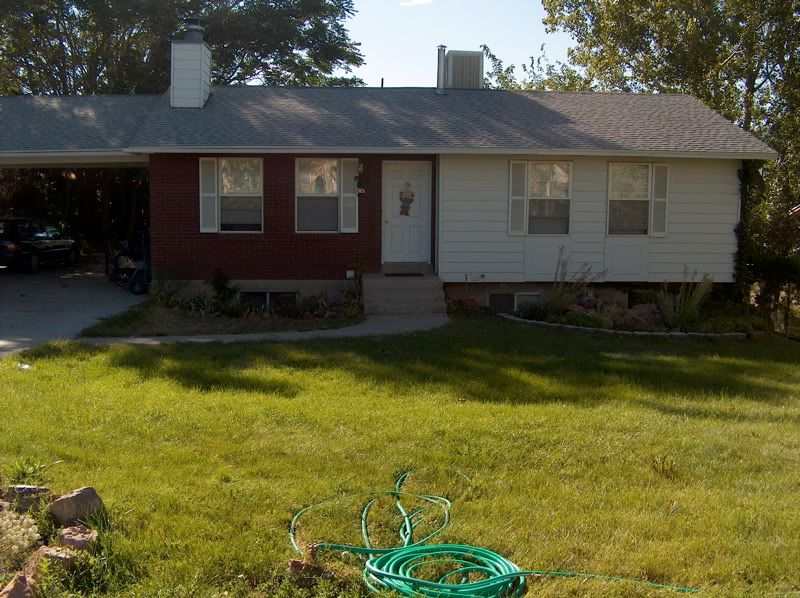 Today we are going to visit my favorite place in the world. My home. I don't get to spend near as much time at home as I would like. In fact, before we move on, I really need to thank Superwoman for taking the pictures for me. I rarely am home during the daylight anymore, so Superwoman kindly handeled the picture part of the tour. Thanks Superwoman! In fact, Superwoman is the biggest part of what makes our home so great. I could go on about Superwoman all day. But thats a subject for another post.
The back yard.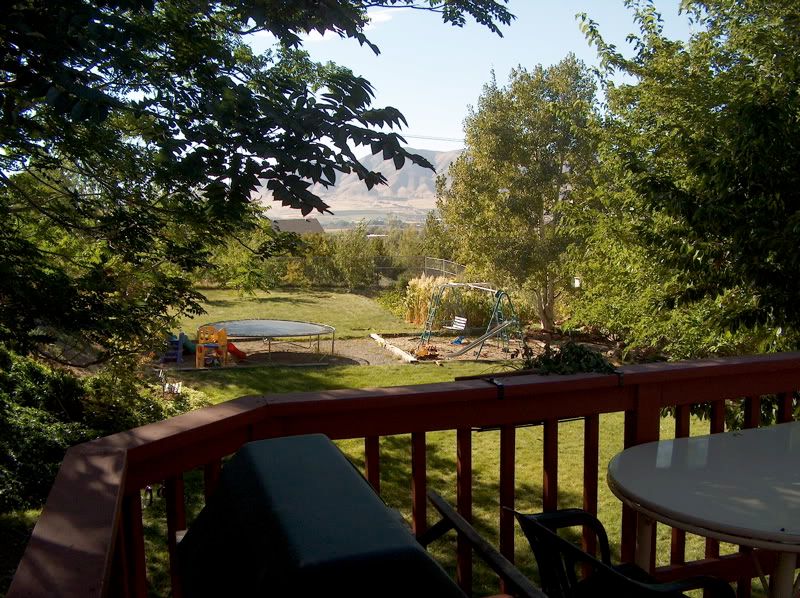 When we were looking for a house to buy last fall, we didn't think we would be able to afford much. The housing market is still growing here. And most everything we saw (in our price range) were overpriced trash heaps. When the our realtor showed us this home. The first thing we noticed was the yard. "Wow, how much is this one?", were the first words out of our mouths. The yard is amazing. As you can see it goes all the way out to the fence where the hill falls away. Everything about the yard (except maybe mowing it) is awesome. We fell in love with it immediately.
Lightsaber Battles.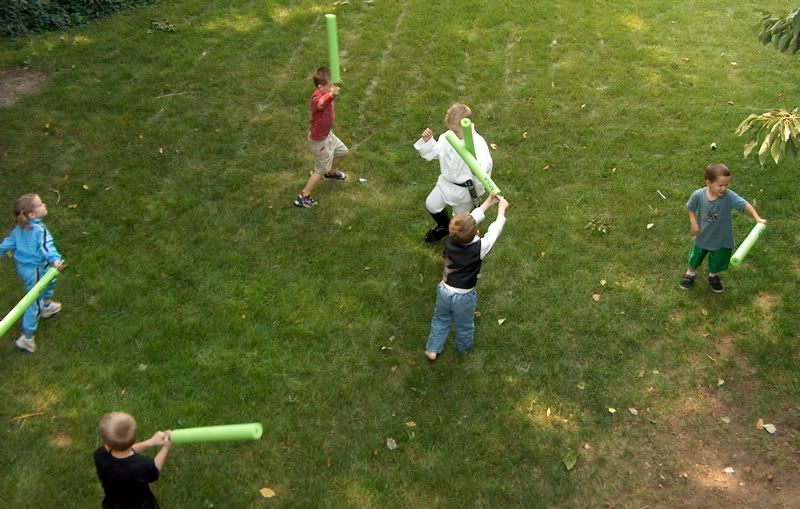 Probably the best thing about the yard is the space it has. We have a trampoline, swingset, dog run, horse-shoe pit, large vegetable garden, multiple flower gardens and the kids outdoor toys and slides out there; and still have plenty of room for epic lightsaber battles, like this one. This photo was from Cookie Monster's party a few weeks ago. My son, center, is dressed as Han Solo and he is having a Lightsaber Battle with a friend of his dressed as Luke Skywalker. I wish we could have seen that in the movie!
The Garden.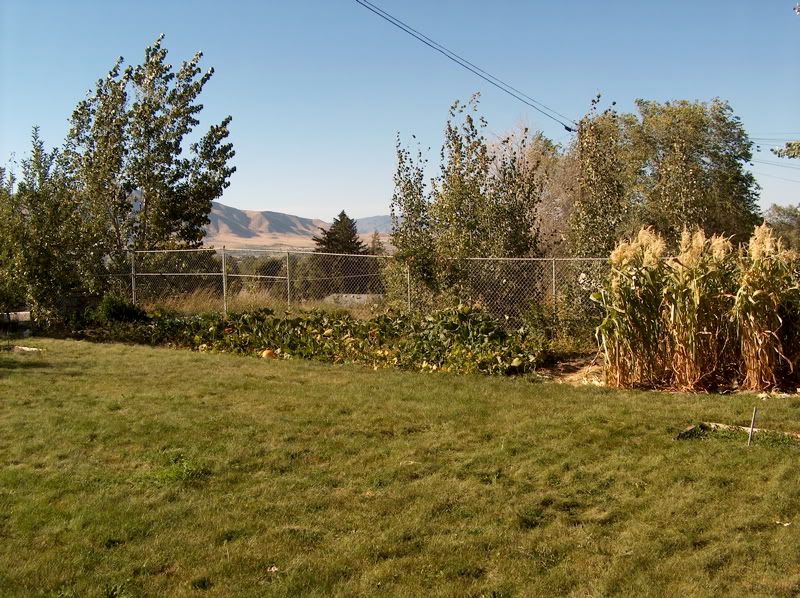 One of the first things we did with the yard is expand the existing garden. Its now about 3 times its old size. You need to come over in the late summer when we have fresh tomato BLT's, corn on the cob, Potatoes, roasted squash and BBQ'd peaches for desert. All the food comes from the yard, and its all to die for. Growing your own food is underrated. Superwoman is excellent with plants and she does most (if not all) the work concerning the garden. She is amazing. You can also see my horse-shoe pit which I put in this spring for my birthday. Its getting a bit overgrown. I need to put in the sand that I have been procastinating for 6 months.
The Fruit Trees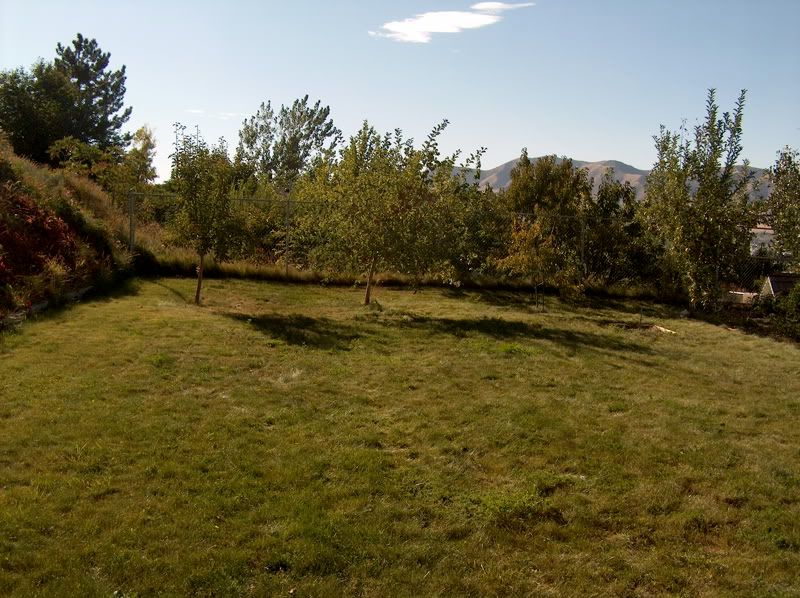 These fruit trees came with the house. We have a Pear (left to right), Fuji Apple, Peach (the small tree) and Golden Delicious Apple (far right close to garden). We also grow herbs, green beans, peas, pumpkins, yellow crookneck squash, zuchinni, corn, tomatoes, jaelpenos, cherries, strawberries and raspberries. Next year we should have some grapes. So we grow a lot of food. We can (store) some and eat the rest of it fresh. We still get most of our food from the store. In Superwomans family they ate mostly out of their garden in the summers. The kids and I will need to help more if we want to eat that well.
Back to the House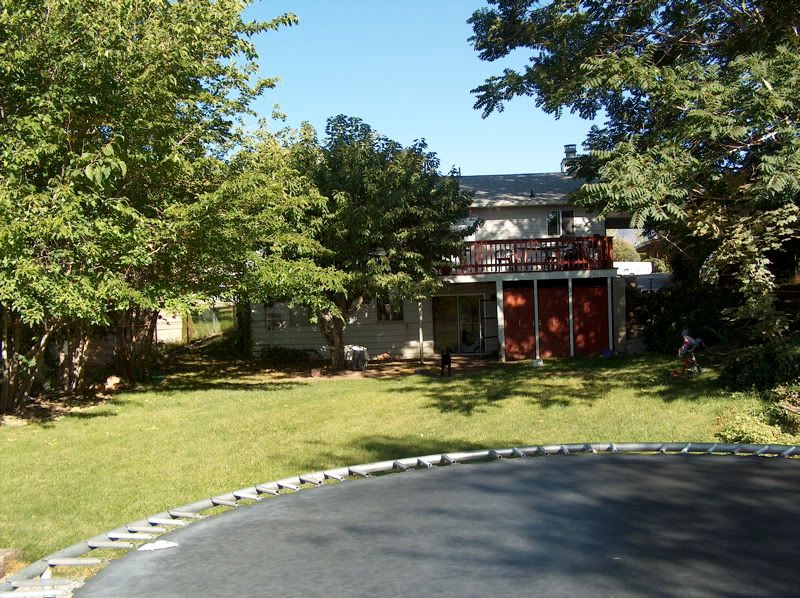 A few last things. Here is our dog Jewel, she is a beautiful jet black lab mix. She gaurds our house from all the critters that you get in our sorta rural town. You can see (if you look really closely) the treehouse in the cherry tree. To the right is the hill we sled down in the winter. And... well, thats our yard! We Love It!
I have a beautiful yard, home and family. I feel very fortunate to have them. If you're ever in Utah drop me a line so you can come for a visit and enjoy them with me.
Wow, this field trip has been a little longer than I was expecting. I was going to take you on a tour of the inside. But that will have to wait 'till next week.
See you next week!