Friday Field Trip
Hello, and welcome to today's field trip. I started the field trips as a way to share my favorite places in a way the folks in the blogosphere could come along with me. If only digitally.
The Tour Moves Indoors.

Today we'll move indoors and tour the inside of Sushiboy's house. Lets start where I usually enter. The kitchen.
Dr. Mom
specifically asked to know what kind of things we had changed with the house. So refer back with
this post
. As you can see we had hardwood floors installed. (Well engineered wood floors if you know what those are). It changes the look of the kitchen quite a bit. I love the look of dark wood. As always the kitchen is one of my favorite rooms. Its the place that makes all my sushi dreams come true. We just got a pot rack for the wall. Its not installed yet. Its black rod iron, we think it will fit in well there. The dining area and cooking area are a bit small (one of our only complaints with the house) so if you all will squeeze carefully through we will continue our tour in the Living Room.
The Living Room.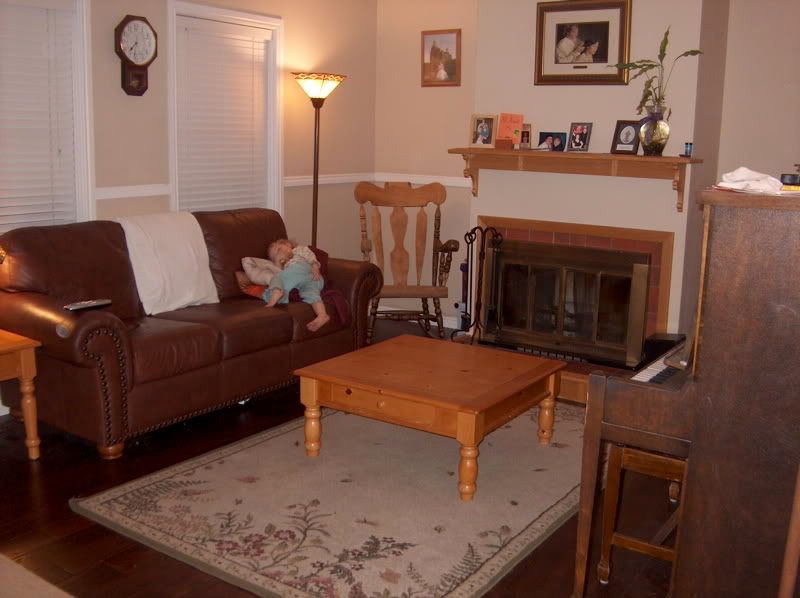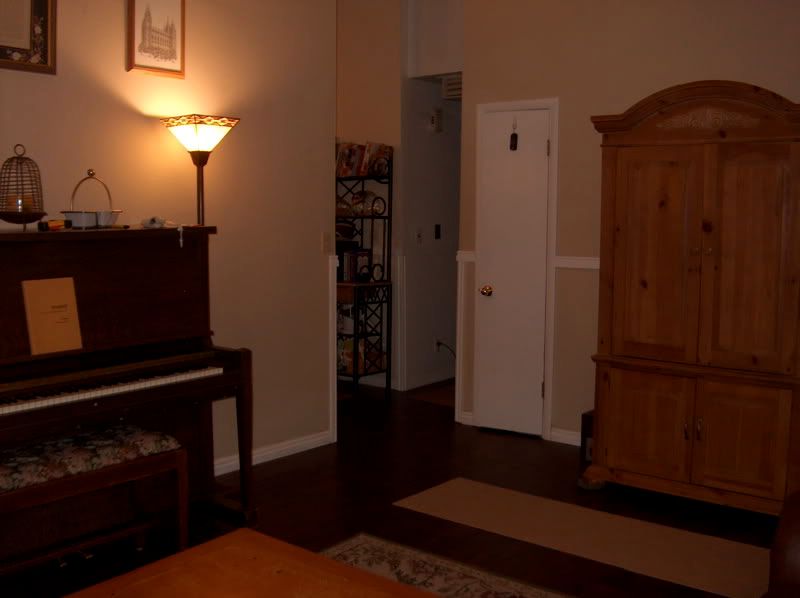 The Living room also benefited a lot from the new floors. Other new additions are the lamps. I love the Tiffany style of glass working. These lamps are a cheap kind of glass that mimics the style, which means we could afford it. Superwoman picked these out with me in mind. I love them. We also, finally, got our piano moved in. Its old... and H-E-A-V-Y. I've lost more friends to moving that piano.....
I like this room because its really cozy and homey. Its a very relaxing room to be in, see for yourself, take a seat somewhere. Its also great room to visit with friends so feel free to yourselves while I get some hot chocolate and cookies. Never mind lil' Cakes. (pictured on couch) She loves company, she will move to let you sit down, but she may sit on your lap after that. She is our cute little charmer.
Our Room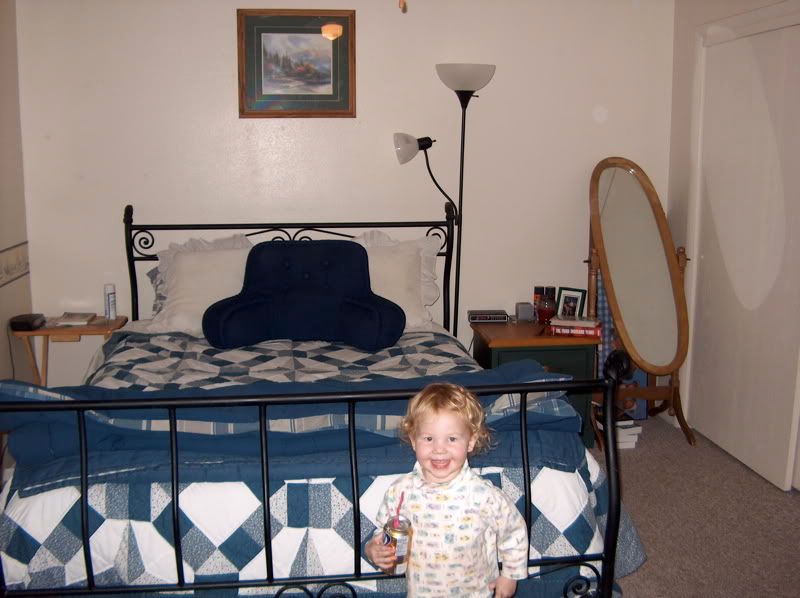 I guess Cakes would like to give you the tour of this room. This is the bed where she likes to interrupt my sleep early Saturday mornings. She and Cookie Monster love to climb all over rod-iron head/foot boards of the bed. Its all fun and games till one of them hits their head on the posts. Superwoman has print of a Thomas Kinkade painting above the bed. Its a picture of a cabin in the mountains. It looks like something you could find around here. She would love to own a cabin like that one day.
Cake's Room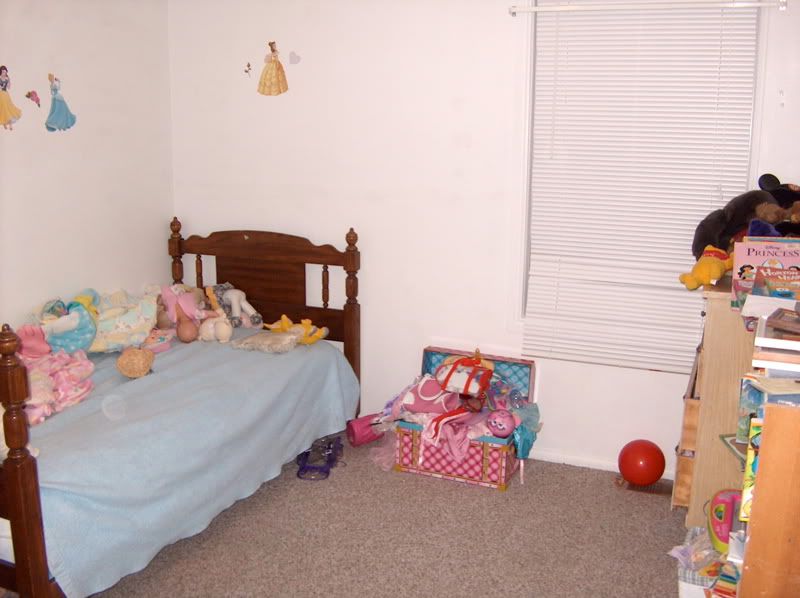 Ok Cakes, go ahead and show our guests your room.... Cakes? Hmm... Well that's kids for ya. This is Cake's room, A.K.A the princess paradise. The little pink treasure chest is full of princess dress up attire, from glittery gowns, down to about a half dozen plastic high heels with princesses on them. Cake's usually picks the play shoes over her real ones. She also has lots of books and a Magna-Doodle (just 'dooodle' to her) she loves to play with. This room is always a fun one to visit.
Cookie Monster's Room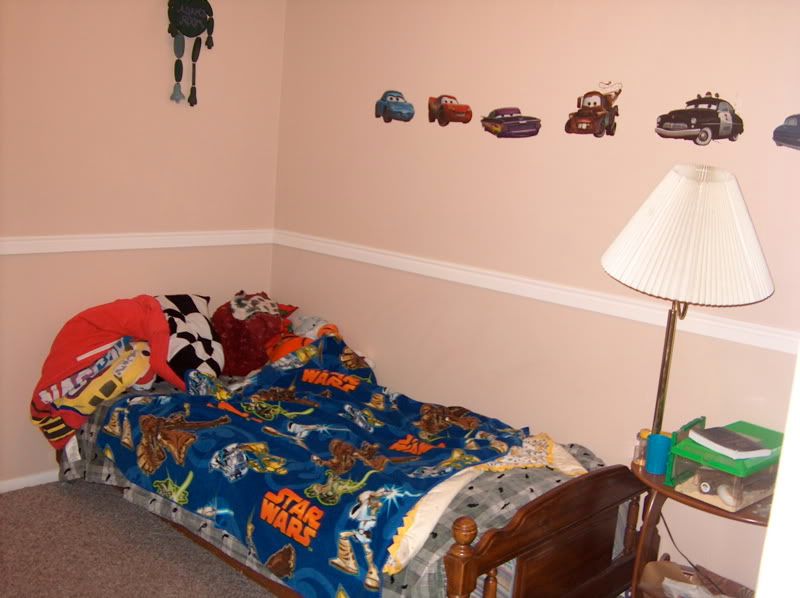 This is Cookie Monster territory. He'd probably love to show you all his toys, but we bribed him with Video Games while company is here. This is the first room we did anything with after we moved in. Superwoman painted the walls and ceiling and fixed a hole in the wall. Cookie Monster loves anything to do with Hot-Wheels, Cars and Star Wars. He is obsessed with Star Wars, you don't need much more proof to know that he is my son. Cookie also has a has a hermit crab for a pet. Hermit crabs are really cool to watch. I wish I woulda had a hermit crab when I was a kid.
The Family Room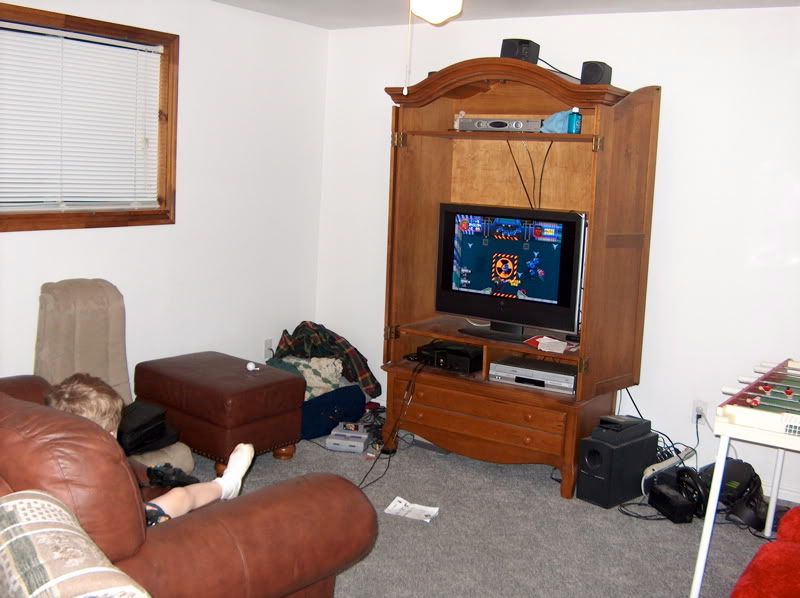 This is Cookie Monster, he loves playing X Box in the family room. Say hi, Cookie Monster..... Hey Cookie Monster, say Hi!.... Whatever. This is the room where we watch the Tube and play video games. I also have an old Foosball table (to the right) which I need to do some repairs on.
We also have the library. But I didn't take a picture of that this time. That's where I read and do homework. (wow, earthshaking news)
That's the tour. Hoped you enjoyed it. Superwoman and I are absolutely thrilled to have a house of our own. We feel really blessed that it is in such a nice area and that we able to buy a house that was perfect for us. Thanks for coming! (Just drop any hot chocolate mugs or cookie plates in the sink as you leave)
Join us next week when Sushiboy gives a guided tour to Making Sushi Rice.