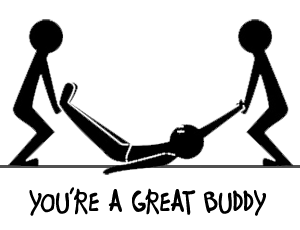 HoosierGirl awarded me with the great buddy award. Apparently she sees me as the type of loyal, genuine person she could count on to dispose of a body should the need arise. Or maybe she just thinks a I have a hidden dark side ;).
Okay, here's how it works if you want to pass it on:
1. Put the logo on your blog.
2. Add a link to the person who awarded you.
3. Award up to ten other blogs.
4. Add links to those blogs on yours.
5. Leave a message for your awardees on their blogs.
1.
Check.
2.
Hoosier Girl's Coffee Table
3.
Big sister
. She would help me hide a body, or I'd help her. I think the subject has even come up once or twice. If only in conversation.
Superwoman
She'd aid and abet me I just know it. She's been nominated already but one good snuff deserves another.
Nobody
I hear there is good grave digging soil out in East Undershirt, and if we happen do nothing a flood would probably take said corpse away in no time.
4.
See Above or the sidebar.
5.
Go check their blogs already!