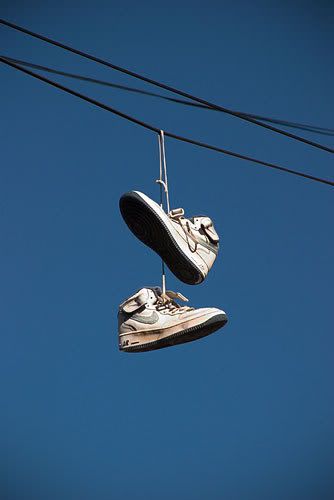 Remember how we have* to juggle our shoes every-time we get on a plane? (off then on, then off again cause the guard wasn't paying attention, then on, then off one more time cause they didn't get a good look for the first two times) That was the suck. I like shoes. Especially when it is cold, or when the sidewalk is hot. Bending over trying to take them off whilst juggling luggage and 2 computer bags wasn't fun either. And it was all down to one idiot terrorist and his shoe bomb.
Why then are the idiots of the world conspiring against us shoe wearing people again? Taking heart from the Idiot-Iraqi-Wingtip-Lobbing-Wanker a British protester
pitched his oxford at the Chinese Premier
. Pretty soon people are going to be chucking their shoes at singers and athletes. It is a disturbing trend.
If idiots keep this up I can see shoes being banned from all public gathering places. Imagine going to the ball park and having to take off your shoes! Although the sticky soda and beer soaked bleachers would be unpleasant in bare feet or socks, I shudder at the mere idea of attempting to use a public male restroom w/o that quarter inch of rubber protecting my feet from those of poor aim, and I don't want to hold it through triple overtime.
So do us all a favor. Keep your shoes on people! If, by chance, you see someone about to toss their moldy shoe at someone. Take a split second to think of the horror of using a public restroom without the benefit of shoes, or of sitting enjoying a concert in socks as the slob behind you spills his coke and it forms a river between your toes, when that time comes you'll know what to do. Block their arm, punch them in their nose, taser them if you have to. Do NOT allow idiots to throw their shoes, even if you detest the intended target. The hallowed practice of donning footwear supersedes any political agenda or social statement. Help me protect it.
This has been a sushiboy-public-service-announcement.
*(edit: tense change. Nobody asked the question if we still have to take them off in the airport. There is new technology that can scan shoes without removing them. But we still have to take off shoes, for now...)