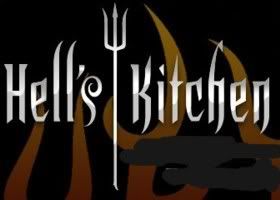 Hell's Kitchen:
Disappointing. The casting department outdid themselves; they found the most incompatible people in the world and put them in one kitchen. Drama aplenty, cooking was lacking,
really lacking
. The group got a few appetizers out, but no food to speak of. There are a few decent chefs and a few basket cases. The show should salvage itself after Gordon weeds out a few of the bozo's (himself not included of course).
The Next Food Network Star:
Encouraging. Great personalities and a heavy focus on the food. The most obnoxious contestant was eliminated. A variety of cooking styles and combinations of cooking situations. This season looks to be better than both of its predecessors.